On 20 October, Åland Post issues this year's miniature sheet in the stamp series featuring Chinese zodiac signs. Designed by artist Martin Mörck, house cats illustrate Åland Post's interpretation of the Year of the Tiger. This is Martin's sixth design in the series: "Already when I received the first commission, I decided to illustrate various views of Åland and create a series of short stories with the animal of the year in the centre."
Artist Martin Mörck is closely linked with the Åland zodiac series. The design process is both demanding and stimulating, Martin says, describing the challenge of creating this year's miniature sheet:
"I wanted a composition that was both indoors and outdoors and chose a sunroom with playing cats. The tranquil Åland scenery appears in the windows and the summer light shines in through the half-open door. In the sheet, a cat peeks in, hoping to join the playing lords of the house, the "tigers". On the wall hangs a Chinese poem about tigers, that roughly translates into "terrifying and proud, power and strength".
The original porch is located in southern Mariehamn. The rich filigree of the windows is characteristic of Åland porches that became popular in the 1800s. Owner Margit Holmberg shares the history of the house: "The house at Västergård's dates back to 1786, and the porch was added in the late 1800s. In the late 1980s, I ran a summer café here, and the porch was frequently used for birthdays, crayfish parties and weddings. Nowadays, we use it as dining room throughout the summer".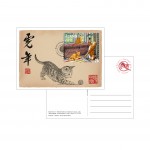 Name of issue Tiger cat
Date of issue 20 October 2021
Artist Martin Mörck
Design Sofia Valtersson/ Strax
Calligraphy Ruizhen Liu
Edition 25 000
Denomination €3.00
Price FDC €4.00
Price maximum card €3.00
Stamp size 60 × 50,1 mm
Miniature sheet size 170 × 95 mm
Paper 110 g/m2
Perforation 13 per 2 cm
Process 4-colour offset
Printer Cartor Security Printing
Order the miniature sheet, first day cover and maximum card at webshop.alandpost.com, by letter to Åland Post Stamps, PO box 1100, AX-22111 Mariehamn, Åland, Finland, by e-mail to stamps(a)alandpost.com or by telephone: +358 (0)18 636 641.