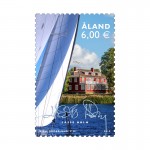 Åland Post proudly presents a new issue in the My Åland celebrity series on 7 June, when Swedish music and Eurovision song veteran Lasse Holm illustrates part of his history with Åland, a location that has been part of his life since childhood.
Lasse Holm has been in the music business since the 1960s and his many popular hit songs are well known to most people. Participating in the My Åland stamp series, Lasse comments:
"It's a great honour to be documented on a stamp, not the least since I keep Åland in my heart, having spent long periods of my life on this beautiful island, privately as well as professionally."
Lasse first visited Åland in the 1950s, when he and his parents spent their holidays in guest house Gripen just outside Mariehamn. Since then, Lasse has stayed in contact with Åland, largely because his sister married an Ålander. This is also how he has managed to follow the development of the province up close.
To Lasse, Åland is largely linked with relaxation and his stamp focuses on the sails to Åland and the family get-togethers during his children's summer holidays. The tiny island of Gripen, the location of the former guest house illustrated on the stamp, is still today summer residence of Lasse's sister's family. Built in the late 1930s, the grand red house has 22 rooms and a dining room for 70 guests. Bengt Wiljanen and two of his siblings purchased the guest house in 1959 and ran it until 1972.
This is the twelfth My Åland issue in the stamp series that has previously presented Björn Ulvaeus's, Tarja Halonen's and Björn Borg's image of Åland, among others.
Date of issue 7 June 2019
Photographer Kjell Söderlund
Design Cecilia Mattsson
Edition 80 000
Denomination €6.00
Price FDC €6.80
Stamp size 40 x 26 mm
Sheet size 2 x 16 stamps
Paper 110 g/m²
Perforation 13 per 2 cm
Printing method 4-colour offset
Printing house Cartor Security Printing
To order stamp, FDC and postcard, please visit Åland Post Stamps web shop