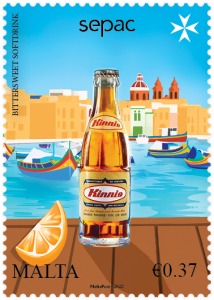 The SEPAC 'Local Beverages' Most Beautiful Stamp Competition, hosted on https://www.sepacstamps.eu, recently concluded with much excitement and anticipation. Stamp collectors and enthusiasts from around the world eagerly voted for their favorite designs, and after a thrilling competition, Malta's stamp emerged as the most beautiful, receiving an impressive 415 votes.
The exquisite stamp representing Malta's unique local beverage captured the hearts of voters. The vibrant colors, intricate details, and overall aesthetics of Malta's stamp made it a standout choice for many collectors. With 415 votes in its favor, it was a well-deserved winner and a testament to the talent and creativity of the stamp designers in Malta.
Besides celebrating Malta's victory, the competition also offered participants the chance to win exciting prizes. The lucky winners, chosen at random from the pool of voters, are as follows:
1st Prize: Betty Kenny from Australia
2nd Prize: Caroline Glass from the United Kingdom
3rd Prize: Daniel Marz from Canada
The SEPAC 'Local Beverages' Most Beautiful Stamp Competition would not have been possible without the active participation of stamp collectors and enthusiasts from all corners of the globe. We are deeply grateful to each and every one of the 1,632 voters who cast their votes and showed their support for the beautiful stamp designs featured in this competition. Your enthusiasm and engagement truly made this event a resounding success.
As we conclude the SEPAC 'Local Beverages' Most Beautiful Stamp Competition, we extend our heartfelt congratulations to Malta for creating the most beautiful stamp and to the lucky prize winners from Australia, the United Kingdom, and Canada. Your participation and support have made this competition a memorable event in the world of philately. We look forward to future SEPAC competitions that celebrate the art and culture of stamp design, and we thank all participants for their passion and dedication to the world of stamps.