The eight Nordic postal services continue the popular Nordic series, which is issued every two years. The common stamp theme for 2018 is 'Fish found in Nordic waters'. POST Greenland's contribution is two attractive stamps, created by the legendary Martin Mörck.
Another series that was launched last year is 'Old Greenlandic banknotes'. Bertil Skov Jørgensen is continuing the series he has been working on which, for another couple of years, will again depict insights into this historically interesting form of payment. The stamps will once again be printed in combined offset and laser etching and will be issued as full sheets and souvenir sheets.
The theme for this year's Sepac stamps is 'Spectacular views'. For 2018, all twelve members of Sepac, the network for small European postal operators, have chosen to release stamps in this popular series. As always, our Sepac stamps will be issued as offset-printed full sheets.
On 26th May 2018, our Crown Prince reached his 50th birthday. His Royal Highness the Crown Prince is extremely popular in Greenland, as is his entire family. POST Greenland will be celebrating this milestone with an excellent portrait stamp, based on a photograph by court photographer Steen Brogaard. The stamp is issued as full sheets and as a souvenir sheet.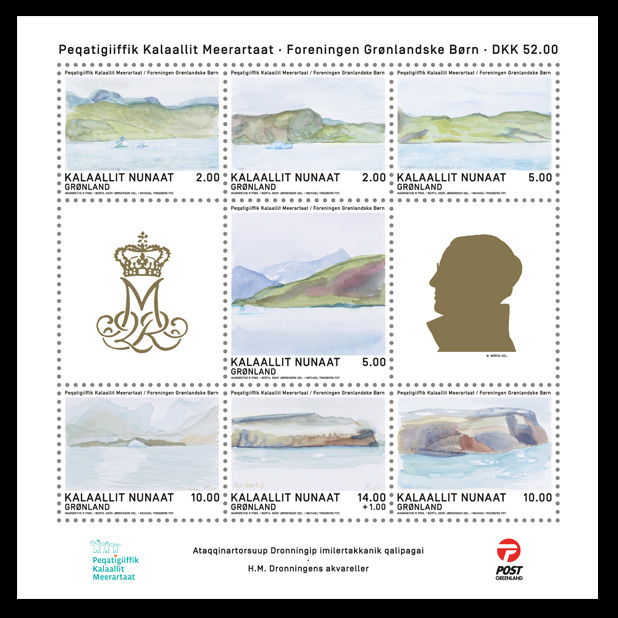 For the very first time, Her Majesty the Queen's artwork appears on Greenlandic postage stamps. Seven stamps to be more exact.
This historic event is especially significant because her Majesty has decided that the stamps are issued for the benefit of charitable work in Greenland. Among the Queen's many patronages you will find the Association for Greenlandic Children, an association of volunteers whom, for almost a hundred years, have worked continuously to create better conditions for Greenlandic children.
The souvenir sheet is sold at a small additional price of DKK 4, all of which goes to the Association for Greenlandic Children. The souvenir sheet was issued on 16th April 2018 – the Queen's birthday.
---
Subscribe to newsletters from POST Greenland, Filatelia.
Subscribe to the newsletter and stay updated on the latest news, issues of new stamps and products POST Greenland, Filatelia, as well as various competitions.
Or meet POST Greenland, Filatelia, on Facebook.
Get current updates on what's happening in POST Greenland Filatelia.