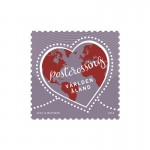 On 7 June, Åland Post pays tribute to Postcrossing, the international postcard movement that has adopted Åland. This will be the first Åland issue with a heart-shaped perforation inside the stamp image. We also introduce an entirely new type of stamp sheet.
The basic idea of Postcrossing is to send and receive postcards from anyone anywhere in the world, and the movement has undeniably boosted the writing of postcards since the start in Portugal in 2005. With some 21 000 postcrossers, Finland is one of the countries with the most active postcrossers, albeit the number of postcrossers in Åland remains modest. The world's first association for the hobby was established in Tampere in 2015. Since then, the Finnish Postcrossing Friends Association has arranged several popular postcrossing meet-ups in Åland. 7 June sees the next meet-up, which will be the largest event, so far, and includes the presence of stamp artist Cecilia Mattsson who will sign the issue.
Brand manager of Åland Post Cecilia Mattsson is an experienced stamp designer for Åland Post, and she enjoyed creating a design for such a positive theme:
"Sketching for the stamp, I assumed that what people love about postcrossing is the exchange between people in the entire world and the joy of finding new friends. The heart-shaped perforation, the colour scale and the world map are all meant to convey these sensations. I also looked at other postcrossing stamps to ensure that this stamp would be unique and not resemble any of the previously issued stamps."
The sheet of this issue holds a total of 28 stamps with the gutter consisting of only one decorated space instead of the usual two that otherwise form the gutter of an Åland stamp sheet of 24–40 stamps.
Date of issue 7 June 2019
Artist Cecilia Mattsson
Edition 100 000
Denomination Världen (€1.80)
Price FDC €2.60
Stamp size 38 x 38 mm
Sheet size 2 x 14 stamps
Paper 102 g/m²
Perforation 13 per 2 cm
Printing method 5-colour offset
Printing house Cartor Security Printing
To order stamp, FDC and maximum card, please visit Åland Post Stamps web shop.