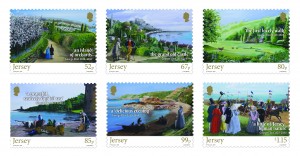 The 200th birth anniversary of George Eliot, one of the most important writers of the 19th century, is to be commemorated with a set of six stamps to be issued by Jersey Post on 1 November 2019.
Born on 22 November 1819, George Eliot produced several works during her lifetime, the most famous being Middlemarch, which is considered to be one of the greatest novels to be written in the English language. Eliot, whose real name was Mary Ann Evans, visited Jersey in the summer of 1857 and stayed for three months with her partner George Lewes. The couple arrived by boat on Friday 15th May and found lodgings with the Amy family at Rosa Cottage in Gorey, on the east coast of the Island. It seems Eliot developed a great fondness for the Island during her stay and wrote of Jersey as "a sweet spot in our memories, while our memories last."
The six stamps in the set have been painted by Jersey artist, Peter Fancourt and show the Island as it might have been seen through the eyes of George Eliot in the summer of 1857. The stamps feature Jersey scenes that have been reinterpreted and painted using descriptions taken from the writer's journals and letters. A quote from Eliot has been incorporated into each of the designs.
Born in Essex, artist Peter Fancourt now lives in Jersey where he has exhibited his paintings for over ten years. A member of the Jersey Arts Trust, his paintings are inspired by Jersey. Over the years, Fancourt has experimented with various styles and mediums, from pen and ink colour washes, to watercolour and wire collage. His acrylic paintings often feature extremes of sunlight and reflections.
Jersey Post's George Eliot stamps will be available to buy from all branches of Jersey Post from 1 November 2019. Philatelic stamp products such as First Day Covers and Presentation Packs will be available from the Jersey post offices at Broad Street, St Helier and Rue Des Pres, St Saviour on issue day and can be ordered now at www.jerseystamps.com Alternatively, you can email the Jersey Philatelic Bureau at stamps@jerseypost.com or telephone us on: +44(0) 1534 616717.