Commemorative stamps celebrating the 200th anniversary of Queen Victoria's birth are to be issued by Jersey Post on 24 May 2019. Designed in Jersey by The Partnership Agency, the six stamps and Miniature Sheet feature portraits courtesy of the Royal Collection Trust.
Victoria, the only daughter of Edward, Duke of Kent and Victoria of Saxe-Coburg-Saalfeld, was born at Kensington Palace, London on 24 May 1819. Her father died shortly after her birth and she became Queen of England at the age of 18, succeeding her uncle, King William IV on 20 June 1837. Britain's second longest serving monarch, Queen Victoria celebrated her Golden and Diamond Jubilees in 1887 and 1897 respectively.
Queen Victoria visited Jersey in September 1846 and again in August 1859, both times accompanied by her husband, Prince Albert and extracts from her journals evidenced her fondness for the Island. Today, in Jersey, a statue of Queen Victoria overlooks the bay of St Aubin in the south of the island and, indicative of the affection of the people of Jersey, her name has been given to many Jersey sites, such as Victoria College, Victoria Harbour and Victoria Cottages.
The portraits which appear on the six stamps show Queen Victoria at different stages in her life. The accompanying Miniature Sheet features a portrait by Franz Xaver Winterhalter, a copy of which hangs in the great hall at Victoria College, Jersey. A gold metallic ink has been used in the printing of both the stamps and the Miniature Sheet, complementing the rich colours of the portraits.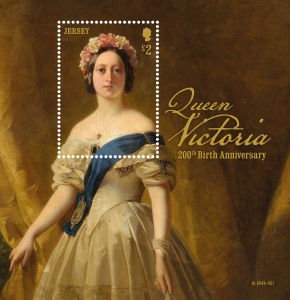 Jersey Post's Queen Victoria – 200th Birth Anniversary stamps will be available to buy from all branches of Jersey Post from 24 May 2019. Philatelic stamp products such as Miniature Sheets, First Day Covers and Presentation Packs will be available from the Jersey post offices at Broad Street, St Helier and Rue Des Pres, St Saviour on issue day and can be ordered now at www.jerseystamps.com Alternatively, you can email the Jersey Philatelic Bureau at stamps@jerseypost.com or telephone us on: +44(0) 1534 616717.