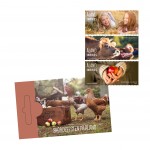 With the release of a stamp booklet on 20 September, Åland Post pays tribute to the Harvest Festival, one of the largest and most popular recurrent Åland events. Åland photographer Therese Andersson has captured the lovely moments from the festival last autumn.

The Åland Harvest Festival has been a recurrent event since 1998. Arranged in the third weekend of September, it has grown to become one of the largest and most popular Åland events, attracting Ålanders as well as tourists. A record 16000 visitors were registered in 2018.
The Harvest Festival aims at demonstrating life in the countryside and enhancing confidence in Åland produce. Some 50 farms, food producers, processors and local artisans take part every year, offering local craft and delicacies as well as activities for the entire family. An apple is the Harvest Festival symbol and apple-shaped road signs are used to guide visitors to the open farms.
With this year's stamp booklet from Åland Post, Therese Andersson from Åland makes her debut as a stamp photographer. She reveals:
"I've shot photos at the Harvest Festival for many years. Making the most of the wonderfullight and September colours, I aim at catching the joy, encounters and happenings, the love of a living countryside."
Date of issue: 20 September 2019
Photographer : Therese Andersson
Edition:50 000
Denomination: 9 x Inrikes (€14.40)
Price FDC: €5.60
Stamp size : 53.5 x 24 mm
Booklet size : 181 x 62 mm
Paper : 110 g/m²
Perforation: 13 per 2 cm
Printing method: 4-colour offset
Printing house: Royal Joh. Enschedé
To order booklet and FDC, please visit Åland Post Stamps web shop.